A split leap is an important skill in gymnastics, and one that you should master. A split leap is usually part of the dance in both your floor and beam routines. In this article we share some drills and exercises you can do to help you learn a beautiful, perfect split leap.
As a beginner gymnast, you will start doing a split leap requiring only a 90° split in the level 3 floor routine. By the time you are a level 5 gymnast, you will need to be able to do a split leap with a 150° split on floor. Starting as a level 6 gymnast, you will need to be able to do a leap, split, or jump with a 180° split. So needless to say, a split leap is a skill you should spend time learning how to do perfectly.
The first step to learning how to do a perfect split leap is to master a split jump. A split jump is what a split leap should look like in mid-air. A split jump is off two feet, while a split leap is off of one.
One other tip for doing beautiful split leaps is to leap into the leap. This means that if you are taking several steps into your split leap, the last step should be low and long, like a leap. The low and long step you take before the leap is a punching step. This step helps you punch off the ground so you can leap higher.
How to Improve your Split Leap
When you want to improve your split leap, here are the main areas to focus on:
Height of your Split Leap
Degree of Leg Separation (the split of your leap)
Form (straight legs, pointed feet, good posture)
You also want to make sure your legs are evenly split. Check out the video below!
Gymnast: @alyssa.jade_b
Height of your Split Leap
To improve the height of your split leap you need to strengthen your leg muscles so you can push harder off of the ground. Doing conditioning exercises will help you strengthen your leg muscles and get higher off the ground.
Squats are a great example of a leg conditioning that will will help strengthen the muscles which will help you get higher off of the ground.
Degree of Leg Separation
This also includes making sure your legs are evenly split. To help with this, you're going to need to improve your active flexibility. One of the best ways to do that is by doing different types of kicks. Here are the ones we do in SkillTrakker.
Forward Kicks
You can be flat footed or in high relevé. Arms are out to the side, and try to keep a nice body shape – chest up, legs straight, and toes pointed…the usual. Do 10x.
Sidewards Kicks
Just like before, except before except this time your'e going to be kicking to the side. Do 10x.
Back Kicks
You're going to face forwards and kick backwards as you are walking backwards. Try to keep both legs straight – the kicking leg and the base leg. Do 10x.
Needle Kicks
These can sometimes be a little complicated. Keep your arms by your ears, and as your chest goes down your back leg will go back up to the ceiling. When your chest comes up and your back leg comes down, swing your leg through onto the next step. Do 10x.
Alternating Split Leaps
When doing these, really try to push off of that back leg. You want to try to get your split even on both your good and bad legs. Do 10x.
Straight Leg Skips (not in video)
These are just like regular skips, except while you leave the ground on one leg, your other leg will be straight out horizontally, making a 90º angle at your hips. Try to hold for 1 sec before alternating to the other leg. Do 10x.
Connected Sissonés
With a sissoné, your back leg is slightly higher than your front leg. You want to start on two feet, jump up in your split and land on your front leg before landing on your back leg. Do 10x.
Form
The last main aspect of getting a good split leap is form.
Straight Body Pike
Sit in a straight body pike where you squeeze your legs together and lift your chest and chin up. Focus on squeezing the muscles and not letting go. You can also reach for your feet, but make sure your knees do not bend.
These drills should get you started improving your split leap. One other main thing you can do to improve your split leap is to practice different leap entries and see which one works best for you. Sign up for SkillTrakker to learn them!
Study Done on Improving Split Leaps
As we mentioned in our article about Flexibility in Gymnasts, there was a study done by Dr. Sands to try to increase a group of elite gymnasts' flexibility. The skill they used for measurement was split leaps.
In the study they began by measuring the degree of split of the gymnasts' split leaps with video. Then the gymnasts began a training program where they used therabands to add resistance to the following moves. (They added resistance because they are elite gymnasts, these exercises should be completely mastered without resistance before attempting to add it.)
Kicks forward
Kicks sideward
Kicks rearward
Straddle jumps
Split jumps
They slowly increased the amount of repetitions and sets. At the end of the study all of the gymnasts had improved their split leaps along with their jumps and kicks. Kicks and jumps are included in the drills you should master below.
Muscles You Need for a Split Leap
Legs: You need strong legs in order to do a beautiful split leap, because your leg muscles are what help you punch off the ground to get high in the air. Your legs and hip muscles are also what pull your legs up off the ground into the split position they should be in while in the air.
Exercises You Can Do at Home for a Split Leap
Squats: You need to have strong legs to push off the ground in order to do a perfect split leap. One exercise you can do to strengthen those muscles is squats. To do a squat, stand with your feet hip to shoulder-width apart. You can either do squats with your feet pointing out (with them slightly at a diagonal angle) or your feet pointing forwards. The squats will work different muscles depending on which way your feet are pointing. Keeping your back straight and your core squeezed, lower yourself with your weight on your heels. It can be easier with your arms extended out straight in front of you parallel to the ground. The goal will be for your thighs to become perpendicular to your calves, but only go as far as you can while controlling the movement. With the weight of your body in your heels, push against the floor and raise yourself back to a standing position in order to complete the repetition.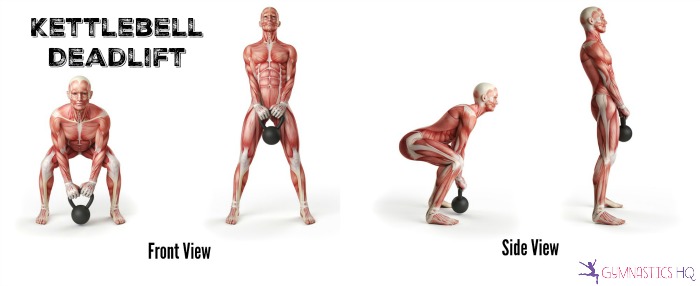 Kettlebell Deadlifts: Kettlebell deadlifts are a hip-pulling exercise just like a split leap. In order to do them, stand with your feet about shoulder-width apart. Place a kettlebell between your legs, in line with your ankles. With a straight back, looking in front of you, bend from the hips, and reach down to pick up the kettlebell in between your legs. Your shins should be vertical and your lower back should be flat. Then pushing through your legs, return to a standing position.
Tools for Learning a Split Leap
Developing Leaps and Jumps for Gymnastics Video by Tammy Biggs: This video by the amazing coach Tammy Biggs has tons of drills for learning how to do great leaps and jumps. We've seen her put on presentations at conferences and we always leave with actionable tips, and you will do the same with this video.
8-Inch Mat: An 8-inch mat can be used to do the split leap drill where you step against a mat propped against the wall.
Kettlebells: Kettlebells are useful for doing strength exercises with resistance.
Therabands: Therabands are useful for adding resistance to kicks and jumps once you have completely mastered them without resistance.
If you work on strengthening your muscles with the exercises above, and practice the split leap drills, we're confident that you should be on your way to learning and improving your split leap. And once you've mastered your split leap, you can move on to learning how to do a switch leap.
Related Posts: