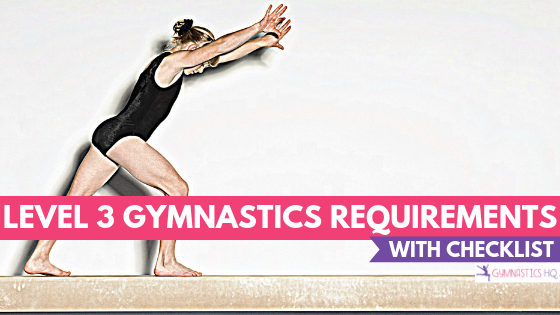 These are the level 3 gymnastics requirements. Level 3 in gymnastics is not a required competitive level; learn more about the gymnastics levels here.
To compete in level 3 gymnastics a gymnast must be able to do the following skills on each of the four events and have reached her 6th birthday.
The checklist and skills below have been updated based on the new routines for 2021.
I've starred the skills that are generally the hardest for gymnasts to learn and most often prohibit a gymnast from moving on to level 3.
Level 3 Gymnastics Requirements: Vault
handspring over a raised mat surface
Level 3 Gymnastics Requirements: Bars
glide swing & pullover OR kip*
back hip circle
front hip circle
squat-on, stretch jump dismount
Level 3 Gymnastics Requirements: Beam
leap with 90° split
180° heel-snap turn in passé
straight jump
pivot turn
cartwheel to side handstand, 1/4 turn dismount*
Level 3 Gymnastics Requirements: Floor
split jump with 90° split
handstand forward roll
handstand to a bridge kickover
leap with 90° split
backward roll to 45° above horizontal, lower to pushup position

Once a gymnast can perform all of these skills and she has learned the Level 3 gymnastics compulsory routines, she is ready to compete in a Level 3 meet. The next gymnastics level is Level 4.
Related Posts: