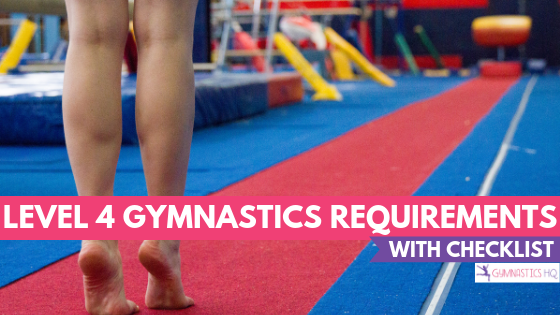 These are the Level 4 gymnastics requirements; Level 4 is the fourth level in the USA gymnastics level structure.  Level 4 is a compulsory level so each gymnast competes the same, identical routine. These are the skills that make up the new compulsory routine. Level 4 is the first required competitive level. Refer to our article outlining the gymnastics levels for more information on how they work.
To compete in Level 4 gymnastics a gymnast must be able to do the following skills on each of the four events and have reached her 7th birthday prior to the first competition.
We've starred the skills that are generally the hardest for gymnasts to learn and most often prohibit a gymnast from moving on to Level 4.

Click Here to Download GymnasticsHQ's Level 4 Skills List
Level 4 Gymnastics Requirements: Vault
Level 4 Gymnastics Requirements: Bars
Straddle or pike glide kip
Cast to horizontal
Squat on
Long hang kip
Back hip circle

Level 4 Gymnastics Requirements: Beam
Cartwheel
Split leap to 120 degrees
Split jump to 120 degrees
Cartwheel to side handstand, 1/4 turn dismount
Level 4 Gymnastics Requirements: Floor
Straddle jump with 120 degree split
Back extension roll
Round-off back-handspring back-handspring*

Once a gymnast can perform all of these skills and she has learned the Level 4 gymnastics compulsory routines, she is ready to compete in a Level 4 meet. After passing out of level 4, gymnasts move on to Level 5.
Related Posts: