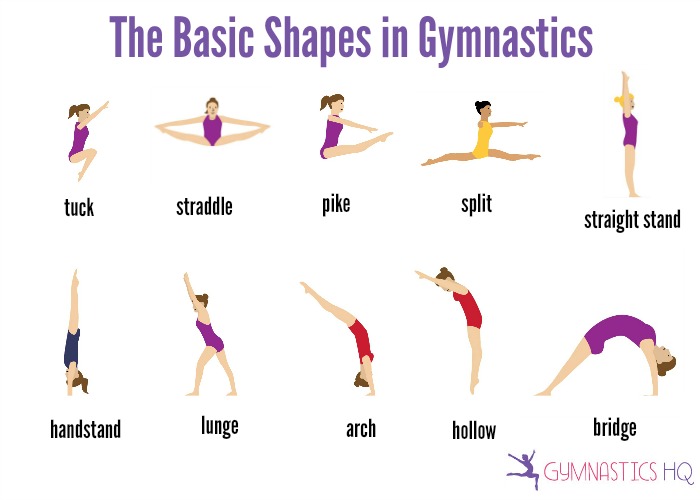 There are some basic shapes and body positions that get repeated over and over in gymnastics skills. Learning and then mastering the shapes is one great way to practice and improve your gymnastics at home.
We're going to go over each of the shapes, why it's important, and some skills which require you to do it.
Here goes…
Tuck: You see the tuck shape on each of the events. As beginner gymnasts you do tuck jumps, and then tuck jumps with a turn on both floor and beam. As you advance, you will learn a front tuck. On bars, you will use the tuck shape as you advance to do flyaways, and then twisting or double tuck flyaways. On vault, as an advanced gymnast you will learn tuck tsuks and other flipping vaults.
Straddle: A straddle jump is a jump that you will do as a beginner gymnast, it's in the level 4 routine, all the way to an advanced gymnast.  As you advance in gymnastics you will learn straddle jump 1/2 turns, and full turns, as well as straddle jumps on beam. You can also see the straddle shape in different skills, like a straddle press handstand, or straddling up to a cast handstand on bars.
Pike: You see the pike shape on each of the events, just like the tuck. You will learn pike jumps on both floor and beam. And as you advance on floor, you will learn a back pike and front pike, after you learn the tuck versions. On bars, you can see the pike shape in many different skills, including a kip. There are many different flipping vaults that use the pike shape.
Split: The split shape shows up constantly on floor and beam in gymnastics! A split on floor is a key part of flexibility as a gymnast. Starting with level 1, a split jump is required in each of the compulsory levels on either floor or beam. After learning split jumps, gymnasts learn split leaps, and then switch leaps.
Straight Stand: The straight stand, or straight body position is EVERYWHERE in gymnastics. This is the most important position to master. As a gymnast, you need to be able to stand with your bottom squeezed, hips tucked under, core tight, and with your arms straight and by your ears.
Handstand: A handstand is basically a straight body position upside-down. A handstand is another position that is everywhere in gymnastics. On both floor and beam, you can do regular handstands and press handstands. On vault, you can do front handsprings, which has a handstand on the vault table in the middle of the skill. And on bars, you can do cast handstands.
Lunge: A lunge is how you finish most acro skills on floor and beam. You will land in a lunge out of a handstand, cartwheel, front walkover, back walkover, and more. It's important in a lunge for your back leg to be straight with your front leg bent, and to squeeze your bottom and core. You want your arms straight and right by your ears.
Arch: In gymnastics, it's important to learn how to control the muscles in your body and to learn these basic shapes. One of the basic shapes you need to learn how to control is an arch. A tight arch shows up in many skills, and the act of switching from an arch to a hollow gives your body power. One skill where your body needs to go from an arch to a hollow is a back handspring. While you are upside-down in the back handspring, you will be in an arch when your feet are behind your head. As you pull your legs over your head to snap down out of the handspring, your body will move into a hollow.
Hollow: The opposite of the arch shape is the hollow shape. In the hollow shape, you want your bottom and core squeezed and your legs squeezed together while they are slightly in front of you. You can feel the hollow shape when you do the boats conditioning exercise on the ground.
Bridge: A bridge is another basic gymnastics shape. When you are in a bridge you want to be pushing your body forward to stretch through your shoulders. A basic skill where you use a bridge is in a bridge kickover.
Obviously there are more gymnastics shapes, but these are the most basic. Practicing doing these shapes with good form is a great way to improve your gymnastics.
Related Posts: