To compete in level 6 gymnastics, a gymnast must be able to do the following skills on each of the four events.
In addition to the skills listed below, level 6 routines must each have 5 "A" skills and 1 "B" skill. In gymnastics, each skill has a value, A's are the easiest all the way up to E's, which are the hardest. So when the choreographer is choreographing the routine, he or she will need to make sure to add the right amount of skills and difficulty.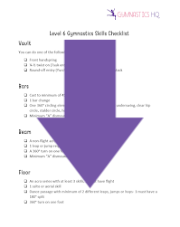 For an overview of the optional requirements you can check out this cheat sheet from the USA Gymnastics website.
Level 6 Gymnastics Requirements: Vault
You can do one of the following 3 vaults:
1/4-1/2 twist on (Tsuk entry), land on mat stack
Round-off entry (Yurhenko) onto table, land on mat stack
Level 6 Gymnastics Requirements: Bars
cast to minimum of 45° above horizontal
1 bar change
one 360° circling element that is one of the following: underswing, clear hip circle, stalder circle or hecht
min "A" dismount

Level 6 Gymnastics Requirements: Beam
either a non-flight acro series, or one acro flight element
1 leap or jump requiring 180° split
360° turn on one foot
min of "A" dismount
Level 6 Gymnastics Requirements: Floor
1 Acro Series with at least 3 elements, 2 must have flight
1 Salto or Aerial acro element
Dance passage with minimum of 2 different leaps, jumps, hops — 1 must be a 180° split

Once a gymnast can perform routines that meet all these level 6 requirements, and she has passed out of level 5, she may compete in a level 6 meet. Level 6 may be skipped if a 32 AA was scored at Level 5.  After successfully completing level 6, she can move on to level 7.
Related Posts: