An easy way to describe an aerial cartwheel would be a cartwheel with no hands. However, when you go to learn how to do an aerial cartwheel, you quickly realize that doing an aerial cartwheel is much different than doing a cartwheel. The first reason is that an aerial cartwheel gets its power from the gymnast's legs, whereas the cartwheel uses the gymnast's arm muscles. So in order to learn how to do an aerial cartwheel, the gymnast has to strengthen and use different muscles.
Another reason why an aerial cartwheel is much different than a regular cartwheel is that it is much more difficult to learn. While the aerial cartwheel is no longer in a compulsory floor routine, it can be used to fulfill the Level 6 Floor requirement of a salto or aerial element. Many gymnasts also use it in their routines at more advanced levels.
I'm going to give you exercises to strengthen the muscles you need to do an aerial cartwheel, along with some drills and tools to help you learn the skill.
If you have learned how to do an aerial cartwheel, you can download The Aerial Cartwheel Club certificate.Click Here to Download
Muscles you need for an Aerial Cartwheel
Legs: You need strong leg muscles to do an aerial cartwheel because your legs are what give your body lift and momentum in order to stay in the air.
Core: You also need strong core muscles to perform an aerial cartwheel because you have to be squeezing your core to keep your body tight while you are in the air.
Exercises You Can Do at Home
Hip Lift: Hip lifts strengthen your glutes, which you need to push off the ground for your aerial. To do them, lie on your back with your knees bent, your arms at your side and your feet on the ground. Lift your hips toward the ceiling, hold for a second and then lower your hips back to the floor to finish the repetition. Make sure you are keeping your back flat and squeezing your butt.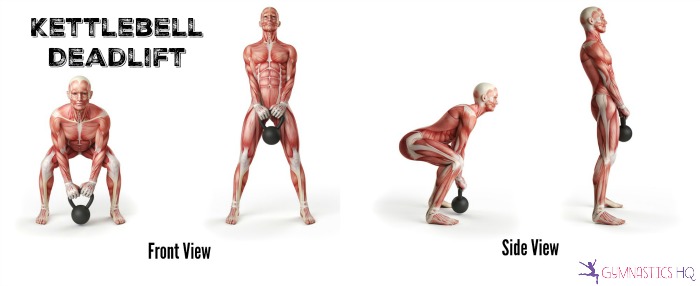 Kettlebell Deadlift: Kettlebell deadlifts help to strengthen your legs. Stand with your feet about shoulder-width apart. Place a kettlebell between your legs, in line with your ankles. With a straight back, looking in front of you, bend from the hips and reach down to pick up the kettlebell in between your legs. Your shins should be vertical and your lower back should be flat. Then pushing through your legs, return to a standing position.
Squats: Squats are great exercises to help you strengthen the leg muscles you need for an aerial cartwheel. Stand with your feet hip to shoulder-width apart and your toes pointing forwards. Keeping your back straight and your core squeezed, lower yourself with your weight on your heels. It can be easier with your arms extended out straight in front of you parallel to the ground. The goal will be for your thighs to become perpendicular to your calves, but only go as far as you can while controlling the movement. With the weight of your body in your heels, push against the floor and raise yourself back to a standing position in order to complete the repetition.
Lunges: Lunges are a great exercise to do to learn an aerial cartwheel because it mimics the beginning motion of an aerial. To do a lunge, stand with your legs together and your hands on your hips (or if you are using weights with your arms beside you). Your back should be straight and you should be looking in front of you. Step one foot forward and bend both legs until your back leg is almost touching the floor and your front thigh is parallel to the floor. Make sure your front knee is above your ankle, and that your back knee doesn't touch the floor. Stand up and repeat with the other leg.

Planks: Planks are a great exercise to strengthen your core muscles. You can do a plank exercise from either your wrists or your elbows. When you are in the plank position you want to be squeezing your legs, butt and core. Your shoulders should be over your elbows, and your body should be in a straight line from your head to your feet. As you are squeezing all your muscles and maintaining a straight-body position, make sure to breathe!
Aerial Cartwheel Exercises You Can Do at Home

Needle Kicks: To do a needle kick exercise as a drill for the aerial entry, start from a mountain climber position. This is with one knee on the ground and your other leg in front of you at a 90-degree angle. Then you want to stand up by pushing on your front leg (keeping your other leg behind you), and after you have stood up quickly do a needle kick. This is to practice the motion going into your aerial. You can see this drill in the video above.
Cartwheel Close: You can practice doing cartwheel closes at home, using the lunge motion in the beginning of the cartwheel that you will need to do an aerial. Do a fast cartwheel and land one foot swiftly after the other, pulling the second foot into the first one.
Cartwheel Close with Sliders: You can do the drill shown in the video above at home also — a cartwheel close with sliders. The goal of this drill is to get the sliders to slide back away from your feet. You want to be lunging and moving your feet so fast that the sliders go flying.




Aerial Cartwheel Drills You Should Be Able to do at the Gym
Aerial off a Panel Mat: At the gym you should be able to do an aerial off a raised surface before you learn to do one on the floor. This can be off a panel mat, or into the pit on a mat.
Tools for Learning an Aerial Cartwheel
Sliders: Sliders are a great tool to help you learn an aerial cartwheel. You want to be able to do a cartwheel close drill and have the sliders go flying.
Panel Mat: A panel mat is useful for several different aerial cartwheel drills.
So, if you want to learn how to do an aerial cartwheel, the first step is to strengthen your legs and core muscles. The next step is to practice the needle kicks drill, cartwheel close and cartwheel close with sliders. After you have mastered those drills, try aerials off a raised surface. Once you can do an aerial successfully off a raised surface, you should be able to take your new skill to the floor. I hope the video and exercises are helpful to you and help you learn how to do an aerial cartwheel!
Related Posts: