This year we thought it'd be fun to put together some ideas to spend your holiday break having fun with gymnastics! Some gyms may not have regular practice schedules over the holiday break, or you're on a modified schedule. You may have some extra down time with being out of school, even though it can sometimes be busier with visiting family for the holidays – regardless of your situation, we hope you can enjoy some of these fun gymnastics activities over your holiday break.
BONUS ACTIVITY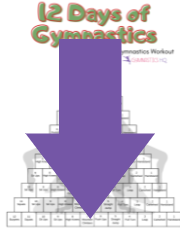 Spell Your Name Challenge
This is a cool conditioning workout game where you will use the letters of your name to complete the conditioning workout! Each letter has an exercise for it. If you have a short name, you can always do your first and last names to get a good workout in!
We put together a list of our top picks of books for a variety of age ranges. You can check out the full list here. There are some really great books on the list! This list includes some of our favorite series as well as some stand alone books about the GOAT and other Olympic gymnasts. The guide breaks down books for younger and older gymnasts and includes some key information about each book.
Holiday Activity Pack
This holiday activity pack includes some holiday gymnastics coloring sheets as well as a letter to Santa that you can color, write and send to Santa. Coloring is such a soothing, calming activity and is said to relieve stress. Ease away the worries of the hustle & bustle of the holidays while creating something beautiful!
We don't know about you, but we LOVE gymnastics movies and TV shows!  We searched for the best movies and TV shows to include on this list. In it, you'll find a brief summary of the movie/TV show as well as all of the information you need to find out where to watch them! Is there anything better than cuddling up on the couch with a cozy blanket, some hot chocolate, and watching a movie?!
These are always fun to do and even if you've done them before you can challenge a friend or family member to do them! We have 2 different videos on our YouTube channel that feature some fun gymnastics challenges. Practice over the holidays and show off to your friends!
Related Posts: