Getting dressed for a gymnastics meet can be stressful since there are a ton of rules and you want to avoid any deductions. Here are some guidelines for getting dressed for a gymnastics meet, although you should always check the specific rules for your organization or state.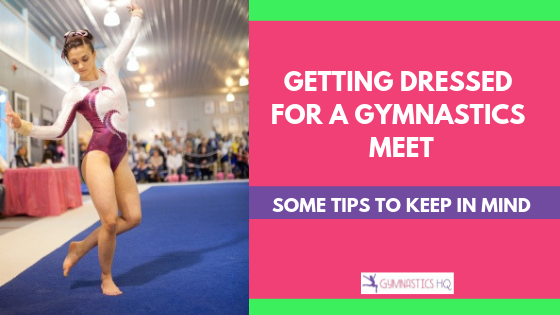 Leotard & Warm-Up Suit:

Wear your leotard to the meet. Either wear your warm-up leotard with your competition leotard packed in your gym bag or wear your competition leo. Your coach should have told you which. Wear your warm up suit on top.

Hair

Your hair should be neatly pulled back in a bun or a ponytail. A ponytail will work if your hair is short enough that the ponytail won't be flopping in the way while you compete. If it isn't short enough, you can either curl your hair in the pony to make it shorter, or you will need to choose a different hair style. Make sure to use hair spray or gel to prevent your hair from coming undone. You will also need to spray or gel back any "wispies". Check out my gymnastics hairstyles pinterest board for some more creative hairstyle ideas.

No Nail Polish

You should not be wearing nail polish. Judges can deduct for polish on your fingers or toenails at meets, so avoid this. If you want to earn bonus points with your teammates–be the gymnast or gymnast's mom with nail polish remover in your bag.

No Jewelry Except Stud Earrings

You cannot wear any jewelry while competing in gymnastics meets. Jewelry can be a safety risk. The only jewelry you can wear is stud earrings.

Pack Your Gym Bag

Pack your gym bag the night before a meet so you are ready and prepared. Your gym bag should contain:
Copy of your Floor Music– You should always keep a backup copy of your floor music in your gym bag (Unless you are competing Compulsory–then the host gym will have it). Things can always go wrong and you want to be prepared. The CD your coach brings could not play or it could get lost. Or he/she could forget to bring it. You don't want to end up having to be doing your routine to someone else's music to avoid the no music deduction.
Hairspray- for last minute hair fixes
Bobby Pins and extra hair ties– in case your hair comes undone and needs to be fixed
Water Bottle & Snack– Gymnastics meets can run 4 hours or more
I hope these tips help you get dressed and prepared for your gymnastics meet with ease.

Related Posts: