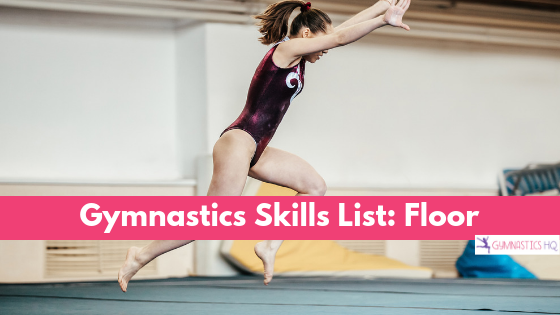 Here is a list of floor gymnastics skills. It's not a comprehensive list. But we've tried to list the most commonly learned floor skills in the order that most gymnasts learn them. You can use this as a good starting point.
Acro Skills
Forward Roll
Backward Roll
Front Walkover
Handstand Forward Roll
Back Tuck
Back Pike
Back Layout
Whip Back
Front Pike
Front Layout
Back Layout 1/2
Back Layout 1/1
Turns
Half turn on one foot
Full turn with free leg in scale above horizontal
Full turn illusion turn
Full turn with free leg at a 180° split position
Double turn (720° turn)
Jumps
Here are the basic shapes in gymnastics that are used in the jumps below. When thinking about how to improve your jumps there are two main areas you can improve: your body position and the height of your jump.
Straight Jump
Tuck Jump
Straddle Jump
Split Jump
Pike Jump
Wolf Jump
Straight Jump 1/1 turn
Tuck Jump 1/1 turn
Wolf Jump 1/2 turn
Straddle Jump 1/2 turn
Split Jump 1/2 turn
Leaps
If you want to improve your leaps, here is a split leap workout you can do at home.
Cat Leap
Hitch Kick
Sissone
Tour jeté
Side Leap
Ring Leap
Basic Tumbling Passes
Round-off- Back Handspring
Round-off- Back Handspring- Back Tuck
Front Handspring– Front Tuck
Front Tuck- Round-off- Back Handspring
Round-off- Back Handspring- Back Layout
Here are the gymnastics skills lists for Beam and Bars.
Related Posts: